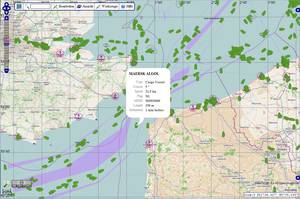 The layer "tracking of ships" shows the position of all ships that have an appropriate tracking system.
AIS
"Automatic Identification System" is a VHF-based system for the transmission of the positions of ships, the course and speed as well as a lot of other data such as the name of the ship, flag state, MMSI-number, the type of ship, its length etc. Like with radar, surrounding ships can be monitored in order to avoid collisions. The range is about 30 nautical miles. All ships over 300 GRT are equipped with an AIS-receiver. And even on yachts the system is enjoying increasing popularity.
The data are also received by AIS shore stations and combined centrally. The University of Syros share the data by MarineTraffic with us. OpenSeaMap runs one of these shore stations at the Main-Danube-Canal.
SatPro
The tracking of ships via satellites works worldwide and over any distances. Using a small transmitter the data of the ship are sent via an IMMARSAT -satellite to a ground station und stored there centrally. Shipping companies leverage this system to manage their fleets and charter companies, regattas and private individuals use it to show the position of their ships. In case of ship transfer, insurance companies often demand the usage of a satellite tracking device.
GPRS
In inland waters the position data can also be transmitted via mobile phone networks.
Showing the position
Ships are shown on the map in their direction of travel.
green: AIS
blue: SatPro (satellite and GPRS)
A dot represents two or more ships. If you zoom in, the dot will resolve into the individual ships.
If you click on a symbol, a popup window with the ship's data will appear.